Calm in a sinking environment

The Dead Sea. The lowest place in the world, one of the most important natural treasures, has almost been declared as one of the wonders of the world because it is unparalleled. For me and like many people in Israel, this is one of the best places to travel in and around

When I reached the Dead Sea at the beginning of March this year, I received winter weather with sandstorms and haze. Nothing is uncommon during the winter in the area. Because of the heavy haze, it is possible to hide the horizon that in some cases interferes with the picture. For this reason, I deliberately went to the Dead Sea in the temperament, because it is difficult to photograph, but I think it is time to take pictures that can not be photographed in other weather. This air.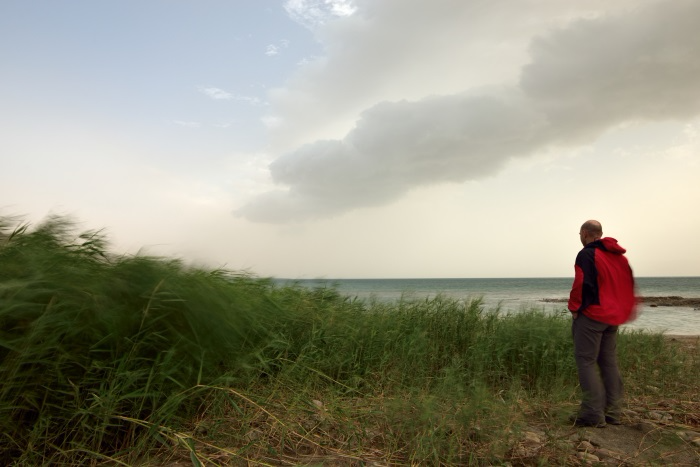 As you drive along the Dead Sea, the blue water with the white hue without the waves looks like another world. For most people, water refers to deep blue rather than milky blue. And the picture is moving again and again. However, once you reach the shoreline, the place looks more disappointing than ever, and every year the situation only gets worse
Not only are there more placards that warn along the road, but also entire areas that are completely dry, facing flooded areas. So much so that the hotels find themselves deep in the flooded areas. In addition to this, wedding photographers with photographs of Tarsh filming the bride and groom while pouring paint on one another, and polluting the clear white salt with gouache that does not descend, and with the tiny amount of rainfall in place,
In fact, the closer you get to the waterline, the more beauty you see on the road looks like a conspicuous environmental ruin. Is it possible that among other things because of this the Dead Sea did not receive the title of one of the wonders of the world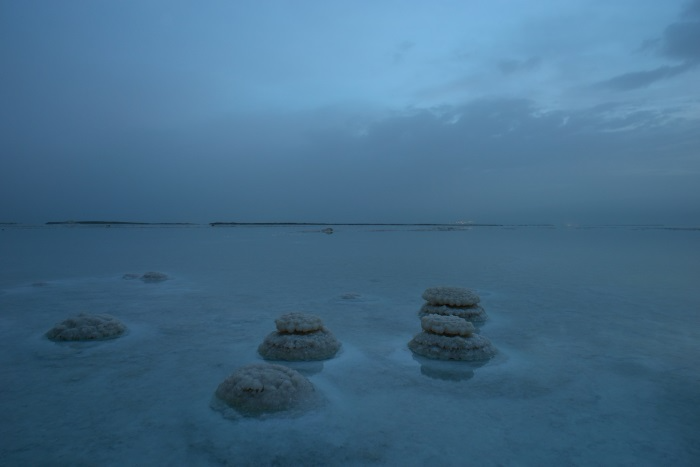 After a short stroll along the promenade of the Dead Sea hotels, I found the place where I wanted to photograph the sunrise. The reason for a sunrise instead of a sunset is that the Israeli side of the beach faces east and because the sun sets in the west my shadow will appear in the photograph because the sun is coming from behind. In the meantime, I'm not going to sit down and count the particles of sand that pass through the sky until sunrise, but I intend to take advantage of the abundant streams and springs along the Dead Sea

I started with David river. The most watery stream along the Dead Sea and the most organized, which includes a disabled access path. I do not think there is a tourist who comes to the Dead Sea and does not pass through this stream. In the short time I was there, I encountered tourists from Canada, the United States, Germany and a young Hungarian couple who were stuck alone with me on a narrow path while waiting for a traffic jam that a group of children had created, apparently they had been in the country for a week. There, on the Israeli side, everything seems always clean and orderly, but they too were worried about the political situation in the region, and they understand how everything is
Complex here in the region. Why are not the parties sitting around talking and solving things? They asked me, and I, who did not know how to give them a simple enough answer, chose to talk to them about the problems of the Dead Sea and the difficulty of keeping the environment as it is in front of the Dead Sea Works. It seems that this was a good enough explanation for the political situation in Israel and they put their heads together and said, so there is a background behind the political situation here in the region, like the situation facing the Dead Sea Works. I said, and pretty soon I found myself giving them advice on how to get the beauty of the stream out of a simple cell phone camera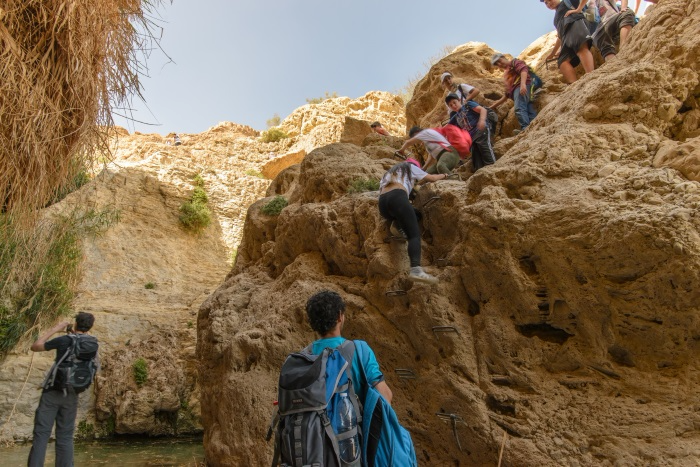 The David Stream is indeed well preserved. day and night. 24 hours a day. Inspectors with night vision equipment guard along David river and Arugot river, in order to protect this sensitive environment and the tigers in the area
One way to preserve the place is to make the general public understand the importance of preserving nature and showing them its beauty. Organized tours of tourists and schools is one of the ways to do it. There is not one day a week there are no hikers in the stream. Throughout the seasons and in any weather, there will always be people walking around. And what about the balance between guarding this place and the person? Well the place is open very few hours throughout the day and well preserved, so that the damage to nature is relatively reasonable
As a photographer, my greatest difficulty in David river is the great rush of the stream throughout the day. Even if I get here early and be one of the first, I will not be alone, and I have to be creative in order to take photographs of the waterfalls without the visitors being inside the picture. There are a few things I do to create a "clean" image of nature without people. The first thing is really getting at the earliest possible time. Although there are already people in the stream, but certainly less. The second thing is to work with wide angle lenses, but from a low height, in order to catch only the waterfalls in the stream without all the people on the above path (and there is always a trail above, in David river). Another thing is to catch a large part of the rocks near the waterfall, thus preventing the path that is found
Close to one waterfall or another to enter the picture, while maintaining a decent composition. The last thing is patience and a very slow pace. That sounds like the wrong thing to do because I want to shoot as fast as possible before people get into the picture, but here's the common mistake. Because at a fast pace I might have a banal photo of a waterfall in the center of the picture with rocks around meaninglessly before I run to press the button or even place the tripod, I look and try to understand the angle of photography I want, In the most precise manner. After all I want to bring the beauty of the place with me and not come back with a "photo of water". And why patience? You need patience to wait for people to move out of the waterfall and answer all their questions while they are standing in front of the lens
For a series of no more than three to four photographs of which I am satisfied, I have to be in the river for about six hours, half of which may be devoted to patience for the many travelers who visit the stream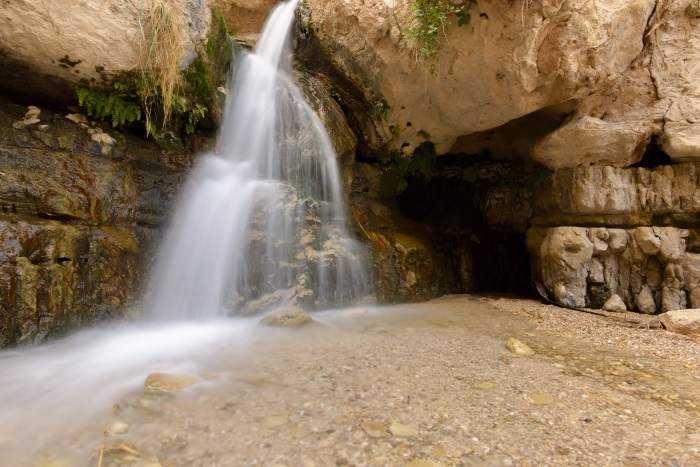 After I got out of the river I went back to the promenade of the Dead Sea hotels, to know for sure where I was going to photograph the sunrise. Sunrise photography is not as easy as it may seem at first sight. During sunrise the sun rises quite quickly, and the lighting conditions change with every passing minute. With a gap of ten minutes only, you can get a blue picture (like the picture above) up to a white picture only because of the change in the intensity of the light in the sky and after two hours of walking back and forth I found the spot I was looking for and continued with the car to the night parking lot on the "Amiaz" plane. This is an empty night camp in most cases, which allows me to get to sleep early and not suffer from all the jeeps who usually come to sing at the fire all night

When I arrived and set up the tent, the sun just crossed the horizon, and I hurried to sleep. At three-thirty in the morning I woke up with an alarm clock and a headlamp and eyes that were still closed, with only a gum leaving me awake. I folded the tent and packed the gear and drove back to the hotel promenade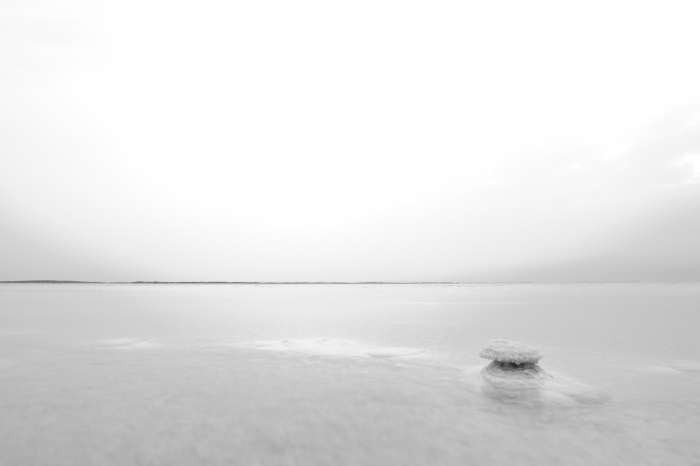 When I arrived with the car on the promenade it was not surprising that it was the only vehicle in the parking lot. With a headlamp, two tripods, two camera bodies and three lenses, I started walking toward the shoreline. The importance of two camera bodies is in the humidity conditions in place with all the salt in the air. In the few seconds of changing the lens, salt can enter the sensor and destroy the camera, and you have to think twice about which lens I'm going to before I get out of the car
Because of the great dirt all along the coast, you have to enter deep enough into the sea and reach the water that is very clean. Another thing that needs to be done is to lower the angle of the photograph so that all the heavy mechanical equipment of Dead Sea Works will not come into the picture. Because of the great darkness, and the fact that I can hardly see the horizon, I must know in advance exactly where I want to set up the tripod, and at what depth. In fact, in most of the photographs, the body of the camera almost kissed the water, which could cause tremendous damage, and all this just so that no tractor or barrel of the Dead Sea Works would enter, which apparently did not protect the environment

During the filming in the David river I was scratched from some of the plants. Not that I remembered it or paid attention to it yesterday, but as soon as I entered the water the memory came to life. All my feet burned from the salt, and if we add to it my fear of water, my reluctance to get wet and be careful not to make waves that will rise on the body of the camera and lens, it was not easy. But if you want a good photo then you are not looking for an easy life
An hour of work is all I needed. I started shooting as soon as the sun began to disappear the night black, and I stopped after ten minutes, crossing the horizon. At this hour I came back with five good shots, burning legs and a crazy sense of satisfaction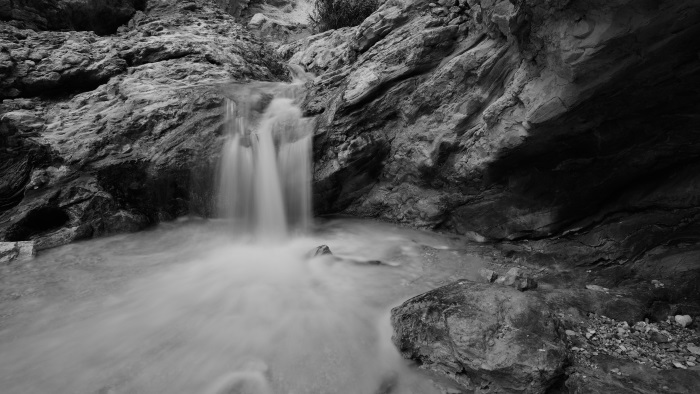 After washing my legs and legs carved in water from bottles that I brought in advance, I went to Ein Bokek. The time we get to Ein Bokek is very important. Unlike David river, here the spring flows in a very narrow area, and it is impossible to photograph even one picture without people entering the picture. Here too, as in David river, it is forbidden to be there at night. Because of the early hour, there were still no hikers, and I could take two hours alone in the stream. Here, too, as in David river, the uniqueness of the place is the water that flows near dry rocks that do not grow on them. This contrast is magic

In the desert, surely and certainly in the Dead Sea water diversion. Unlike the stream of David, here the waterfalls are very small, and the fountain flows smoothly between the rocks, and it seems as if it slides comfortably on the hard desert soil. This fact poses a great photographic challenge, how to capture the small rapids and the harsh environment in a single picture
I think if there is anything that can show toughness is a lack of color. Black and white photography gives an uncompromising picture. There are no colors here that can soften nature, and black and white highlights the war of the spring water to break through the surrounding rocks. At the same time, correct exposure and technical control of photography can show the softness of the water and the coolness of the coolness that the eye gives in one of the hottest places in the country
After two hours of work I returned with three photographs of which I am satisfied. When I finished filming, I sat alone and made small breakfasts on the stove and dipped my feet in the cool water and let them relax from the salt that still burned. With a pot of hot food, I sat among the walls of the high cliffs, gray skies above me with a smile on my face and the sound of the water running through the rocks. It was not until I finished eating that the first group of people arrived, and I packed my cooking equipment and went home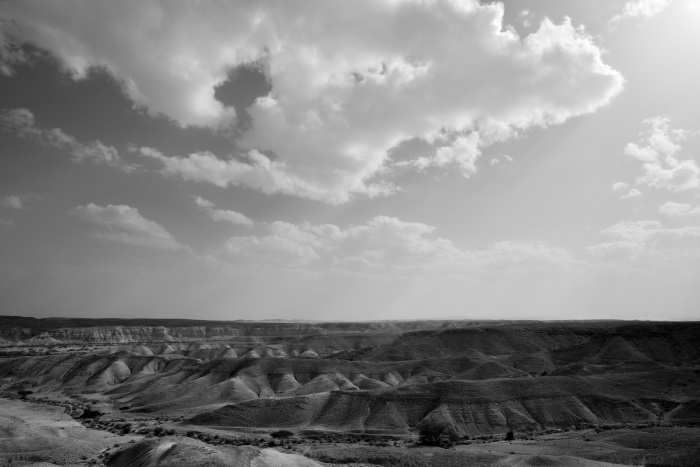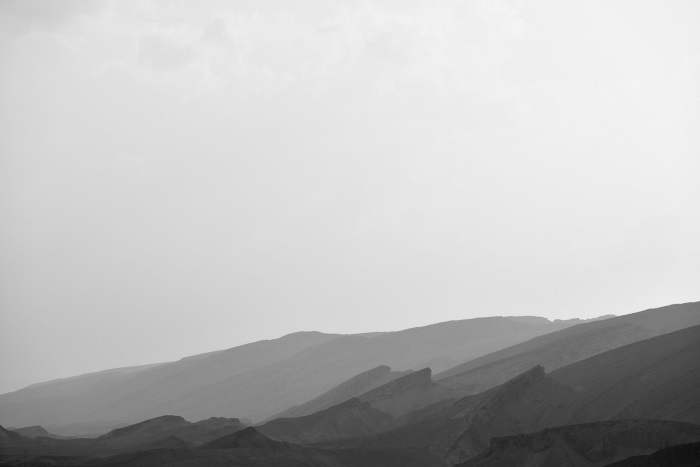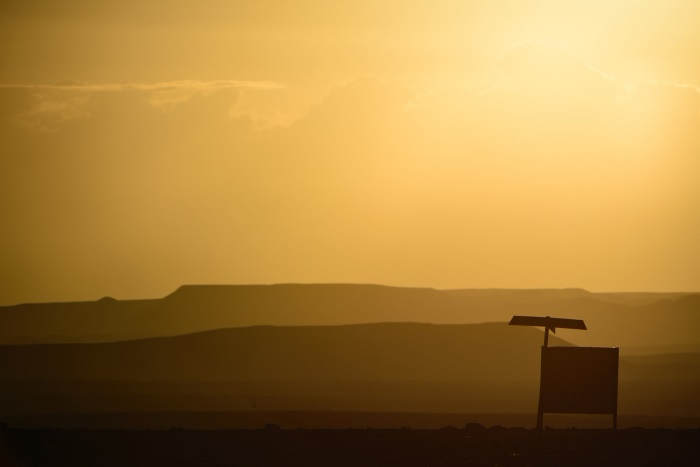 Thank for Ferrino Israel for helping with the field equipment